Learn more about AWS business intelligence solutions
Contact us
Why choose ABCloudz for your AWS business intelligence platform development?
Transforming complex data: We can help you create powerful data ingestion architecture with AWS Glue or Amazon Kinesis which can be easily understood, analyzed, and consumed for your BI solutions.
Modernized reporting: By delivering fully interactive business intelligence, analytics and paginated reports from a single modern web portal, using technologies such as SQL Server Reporting Services with SQL Server running on Amazon EC2 virtual machines, you'll have complete transparency into your business data.
Integrating mobile BI: For decision makers on the go, we can develop solutions to access KPIs and reports on devices like iPhone, iPad or any Android tablets, using Amazon Quicksight built-in mobile BI capabilities.
Using an advanced BI platform: Take advantage of scalability, access to secured data, and machine learning capabilities.
How ABCloudz can help with your AWS advanced analytics projects?
Enabling action using business analytics: Our data scientists are ready to help you evolve ahead of your competitors by building advanced analytics and machine learning into your business applications. We can leverage Amazon Machine Learning and Amazon SageMaker services and tools tailored to meet your needs and level of expertise.
Innovating through intelligent agents: We can help you get closer to your customers and understand them better by building solutions that see, hear, and interpret the natural world.
Using agility to achieve value quickly: Our solution architects can help you gain a head start using preconfigured solution templates from Amazon.
Scaling up analytics with peace of mind: At ABCloudz, we are ready to help you deliver cloud-based security while easily managing complex data streams as your business needs continue to grow.
Key technologies
Our solutions architects leverage the following Amazon Web Services to build your business intelligence and advanced analytics strategy.
Get the most out of your data with AWS BI solutions
Let ABCloudz help you empower real-time decision-making, identify trends, and create multiple data-mining models all within the powerful AWS Business Intelligence solutions.
How ABCloudz approaches AWS business intelligence solutions
AWS offers comprehensive technologies for gaining better insights into business data. The ABCloudz team has experience developing technology roadmaps using these AWS features for organizations of all sizes.
The process starts with understanding your current state and goals for your new solution on AWS. This example shows how we looked at a customer's current data warehouse solution to see how they could meet their scalability needs while controlling costs.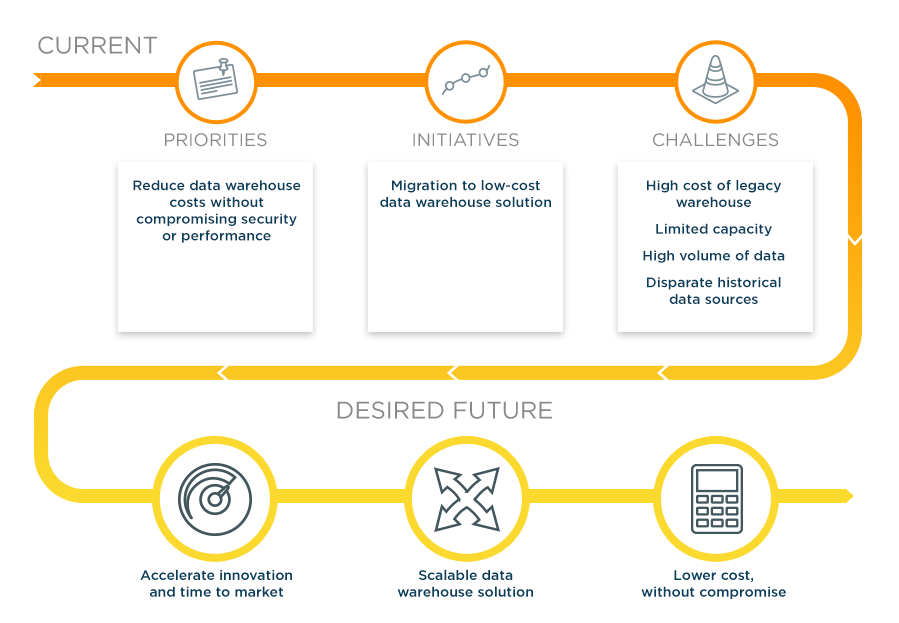 We then work with your team to develop a high-level architecture to identify which AWS services are needed to satisfy your objectives. Here is an example of a high-level solution architecture that addresses the future state requirement. This includes maintaining the customer's current investment with Pentaho for analytics.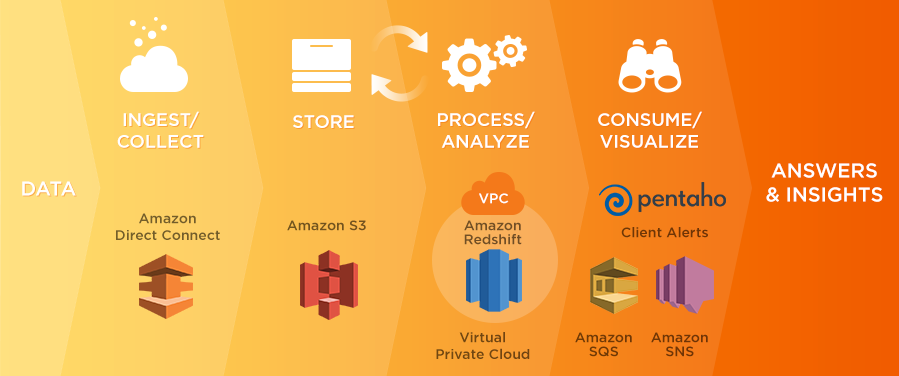 It's crucial to understand your on-premises and cloud-based data and then look at the technologies used to ingest and collect, store, process and analyze, consume and visualize all forms of available data. This gives us insight on how to deliver answers and insights to your team with a deeper understanding of the solution in regards to your business needs. We use this as a roadmap for developing a project plan and creating a return on investment model for a cost-effective solution which can grow as your business needs change.
Check out our getting started offers.
Expanding your existing BI investments
Here are examples of the BI-related technologies that we've used with our customers compatible with AWS technologies.
We can also help you migrate from the technologies below to the corresponding AWS solution.