See how our solutions architects can accelerate your digital transformation
Contact us
Challenges with planning a technology roadmap
We see a common thread with all of the companies that we work with. Technology changes so fast, and yet just trying to keep current solutions running always makes planning for the future a lower priority. We always leverage the latest and greatest technologies for on-premises and the cloud.
Our team has experts on all the major database platforms, application development frameworks, cloud services, and best practices to help guide your team in understanding the current state of your solutions to create a roadmap for the future.
If one of the examples below sounds familiar, we are ready to help you with our future-state architecture design engagement offering.
| Option | Challenge | Benefit |
| --- | --- | --- |
| Providing technology expertise | The company lacks immediate technical depth. When the need arises for a technology planning session, the reviewing team needs to perform research within a limited amount of time and might miss key design constraints. | At ABCloudz, we have experts across all the major technology platforms. With hundreds of technology projects each year we at ABCloudz have acquired a deep knowledge you can trust. For example, with database migration projects, we have experts in the source and target database platform. Furthermore, we have experts for the application platforms, data integration, business intelligence, infrastructure, performance,  and security to ensure a successful migration. |
| Taking advantage of technology trends | Your company lacks benchmarking of what other companies are doing. Companies who can quickly take advantage of technology trends will ultimately attract your customers. | We have access to all the latest approaches that their customers have used to gain a competitive advantage. This includes proven reference architectures, design patterns, training programs, deployment patterns, and best practices that can be applied to your business. |
| Delivering innovations with a fresh look | Your team members have a locked mindset on what is possible. While they are working on existing systems, they often get bogged down on the current system and make it a challenge to get the big picture. | As an application development and systems integration company, we know what it takes to implement innovative solutions for our customers. We have unparalleled experience with customer workload modernization. Our solution architects are trained to dig in with your team to understand the current state of your architecture. We then work closely with your team to see what is possible and craft a future-state roadmap tailored to your business needs. |
Our approach to architectural design
At ABCloudz, we see five distinct phases for all of our projects.
Architecture & Design
Development & Implementation
Testing & Integration
Deployment
Post Production Support

Getting the architectural design right is essential!
Here are some of the high-level services that we offer that all start with a future-state architectural design engagement.
Getting started with future-state architectural design engagement
The process starts with understanding your current state and goals for your new solution. This example shows the current and future state for a global publishing company looking to deliver a new offering for media advertisers to see trends in newsfeed articles.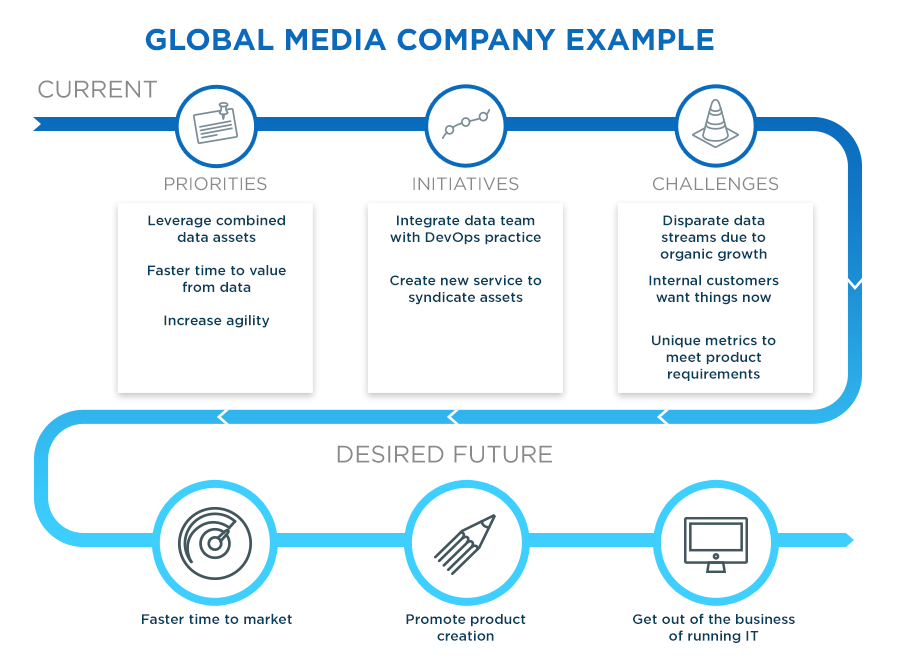 We then work with your team to develop a high-level database architecture to identify the services and components that are needed to satisfy your objectives. Here is an example of a solution architecture that aligns with the future state requirements using the Microsoft Azure platform.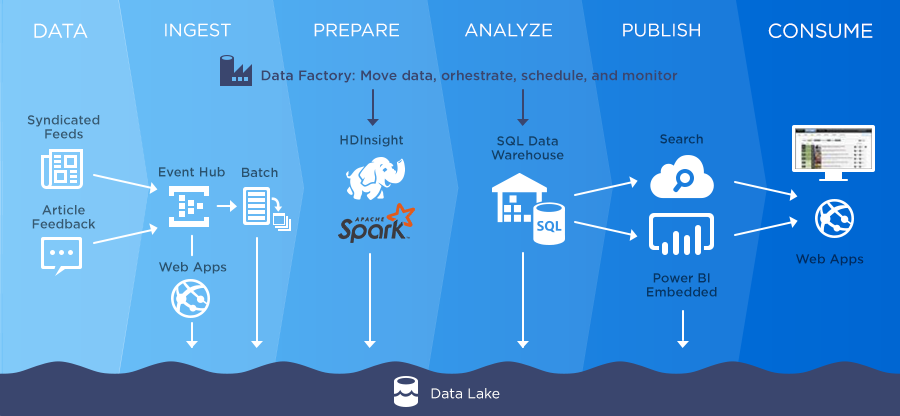 The process of understanding your on-premises and cloud-based data and then looking at the technologies used provides our team with a greater understanding of the custom solution we will implement for you. We use this as our roadmap for developing a project plan and creating a return on investment model for a cost-effective solution that can grow as your business needs change.
Check out our getting started offers to see how we can help with your new solutions.