Take advantage of our expertise to automate your development process with DevOps
Contact us
Our DevOps services
DevOps is a set of practices that combines software development and IT operations. Our proven DevOps approach helps automate all steps in the application development process. Also, we established the DevOps processes to allow for a faster rollout of new features within the market and in building a test automation pipeline. In general, this approach improves the quality of the produced code and introduces cultural changes to the development process.
These changes affect developers, administrators, quality assurance engineers, and, of course, DBAs. This is because database operations are an integral part of the DevOps process established in our company.
DevOps as a continuous process
Are you looking for a way to boost revenue by getting products and services to market faster? Do you want to improve the efficiency of your IT infrastructure and lower service costs? Do you need to regularly integrate new technologies into your system? If you answered "yes" to any of those questions, then you need to take advantage of the proven ABCloudz DevOps processes.
Our certified engineers can assess your current IT capabilities and create an agile plan for DevOps on-premises and in the cloud. We can create new DevOps solutions from scratch or optimize existing processes. Our DevOps engineers can also help you resolve recurring problems through the strategic use of automation.
Our team uses business metrics like velocity, efficiency, security, performance, and availability to improve the key performance indicators of your infrastructure. We care about the scalability, security, high availability of your solutions and always optimize them to make them cost-effective. You can rely on our vast experience to ensure the HIPAA and GDPR compliance of your DevOps solutions.
Typically, the DevOps software development life cycle looks as follows.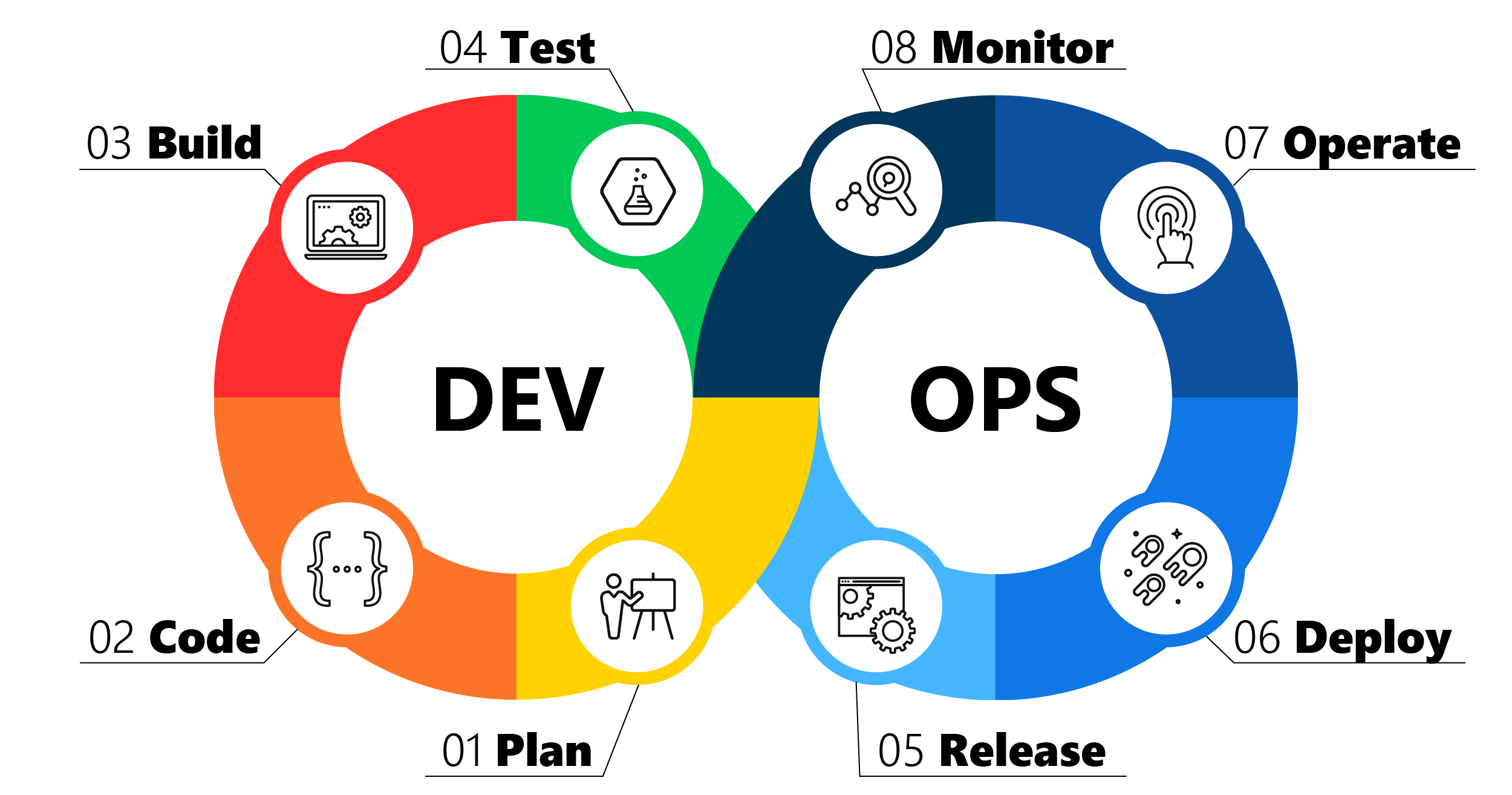 DevOps engineers are responsible for automating all parts of the software development process. These include planning, writing code, creating builds, testing, release, deployment, operational support, and monitoring.
Benefits of using DevOps
DevOps processes allow for:
Shortening the systems development life cycle
Achieving full automation of various processes
Providing continuous delivery of software
Establishing a process for safe, secure, and frequent delivery
Increasing the quality of software
Instant release of updates and hotfixes
Reducing human error through automation
By utilizing the DevOps processes, you can:
Establish a better managerial process
Minimize overall production time
Reduce associated risks
Improve deployment frequency
Lower the failure rate of new releases
Shorten recovery time between fixes
Improve your team's flexibility
ABCloudz DevOps best practices
In building DevOps pipelines for multiple customers we established the following best practices:
Setting up multiple environments
This approach ensures that your software is thoroughly tested before deployment. In this case, you can test any newly implemented features with no need to load your main resources. Usually, we use a four-stage model which includes the following environments:
Development
Test
Staging
Production
However, we can opt for using pre-production to ensure that the customer's team can fully test the code with real data before releasing it to production. We can create these environments from scratch or modernize your existing environments.
Using multiple environments is mandatory for HIPAA and GDPR compliance. Also, building your environments in the cloud helps create scalable and secure solutions that meet high availability standards.
Using code branches
The code branching strategy helps development teams work on large projects. However, this approach also allows for easy identification and fixing of errors in the code.
We regularly use the following code branches:
Development
Feature
Master
Hotfix
Release
However, the actual number of code branches depends on the project and customer's requirements. Our developers can optimize your existing code development process and ensure seamless integration of the ABCloudz team's efforts into your release pipeline.
CI/CD
By automating all processes related to the application development, we ensure continuous integration (CI) of new features as well as continuous delivery (CD) of software updates. The core benefit of this approach is that end-users always utilize the latest version of your software.
CI/CD is an integral part of the DevOps process. However, we can go even further by taking the processes' automation to an even higher level by setting up continuous deployment. In this case, the deployment happens automatically after developers make a major change to the code.
Database replication
The cloud DevOps solution relies on seamless data replication between different availability zones. However, the best practice is to set up data replication for any type of workload. We also opt for using at least 2 VMs in different regions to ensure that our solution stays secure and scalable and that it supports failover capabilities.
Of course, we track all schema changes and log all data changes. Find more information about our DevOps approach to database projects below.
Test automation
Testing is an important step throughout the DevOps workflow. Depending on the results of automated test execution you can either deploy the newly created code or send it back to the developers. The test automation process helps reduce application testing time and eliminate errors for the deployment process to production.
Usually, our DevOps engineers work tightly with QA engineers and developers to integrate tests into the automated pipeline. However, a deep analysis of the test results proves to be even more important. In complicated and challenging situations, you may need to examine the server logs to get a clear view of the bug's nature. This process allows for the discovery of weaknesses or scaling issues and cannot be automated.
We also regularly run integration tests. This type of testing helps check how the entire system works. However, running integration tests may last for days so we usually leverage them only for major releases.
Load testing is another important test. The main challenge for DevOps engineers is to set up the proper environment for load testing. You can't use production servers as this may result in performance issues. That is why we deploy a new environment from scratch with the same parameters as the production server.
ChatOps
Tracking all code changes is vital in big distributed teams. The easiest way to keep an eye on all changes is by using applications like Slack or Microsoft Teams. So, after leveraging the ChatOps service, you can approve releases with a click of a button in the selected messaging application.
DevOps for database projects
As the data is at the core of all ABCloudz services, we have a special set of DevOps practices for database projects.
Consider applying standard DevOps practices to database development, administration, and management. This approach takes you to a whole new level as it helps innovate by deploying quickly and securely. Many database administrators are accustomed to deploying updates to databases manually, thus ignoring the automated process. However, we insist on adding the DBAs' scripts to the application's repository.
The development process includes both the application and database updates. That is why these updates must be deployed together during the same deployment process.
Committing database changes to the same repository is a must for building a DevOps process. However, a change in the approach to database administration is also needed. You can't make changes to the database settings manually, and DBAs should approach database changes the same as code changes. We use the following tools to automate database development and administration tasks:
Azure DevOps Server (previously Team Foundation Server or TFS)
Redgate's Compliant Database DevOps solutions
SQL Server Data Tools
We usually run unit and integration tests for both applications and databases. The code control and automated scripts help a lot in accomplishing these tests and in discovering issues.
Our team leverages database tools for platforms like Microsoft SQL Server and Oracle Database for data masking, row-level security, auditing, etc. from the beginning of the project. This approach ensures that we meet the compliance requirements and keep our customer's data secure during the entire DevOps cycle.
Continuous integration, delivery, and deployment
Continuous integration (CI) allows for merging the code from several developers into a certain branch of a shared repository. This is an irreplaceable option for working in the multi-developers' teams. We also use build automation to include every commit. So, we always have the latest build ready for testing, demonstration, or release.
At the same time, CI ensures the quality of released software and foresees the execution of all related tests. Typically, we run the tests automatically to verify that the updated code works as expected. This also provides immediate feedback on all new features. So, in case of a bug, the developers can easily get back to a previous code version.
Generally, the right CI process helps reduce integration costs. However, we usually run integration tests before every major release.
Continuous delivery (CD) is an extension of continuous integration. CD allows for shorter software production cycles and automates the delivery of software.
Usually, we enable continuous delivery through the deployment pipeline. It includes visibility, feedback, and continuous deployment through a fully automated process.
Continuous delivery provides users with the following benefits:
Accelerated time to market both for new features and hotfixes
Improved productivity and efficiency through automation
Increased product quality as the number of bugs is minimized
A higher level of customer satisfaction
Continuous deployment brings the established CD processes to a whole new level. Continuous deployment allows for automatic installation of the new version of your software after completing all automated tests and retiring its old version. Our team can master this process to help you build a fully automated process.
Tools that we use
The following image highlights the tools and approaches we use at ABCloudz for building DevOps pipelines.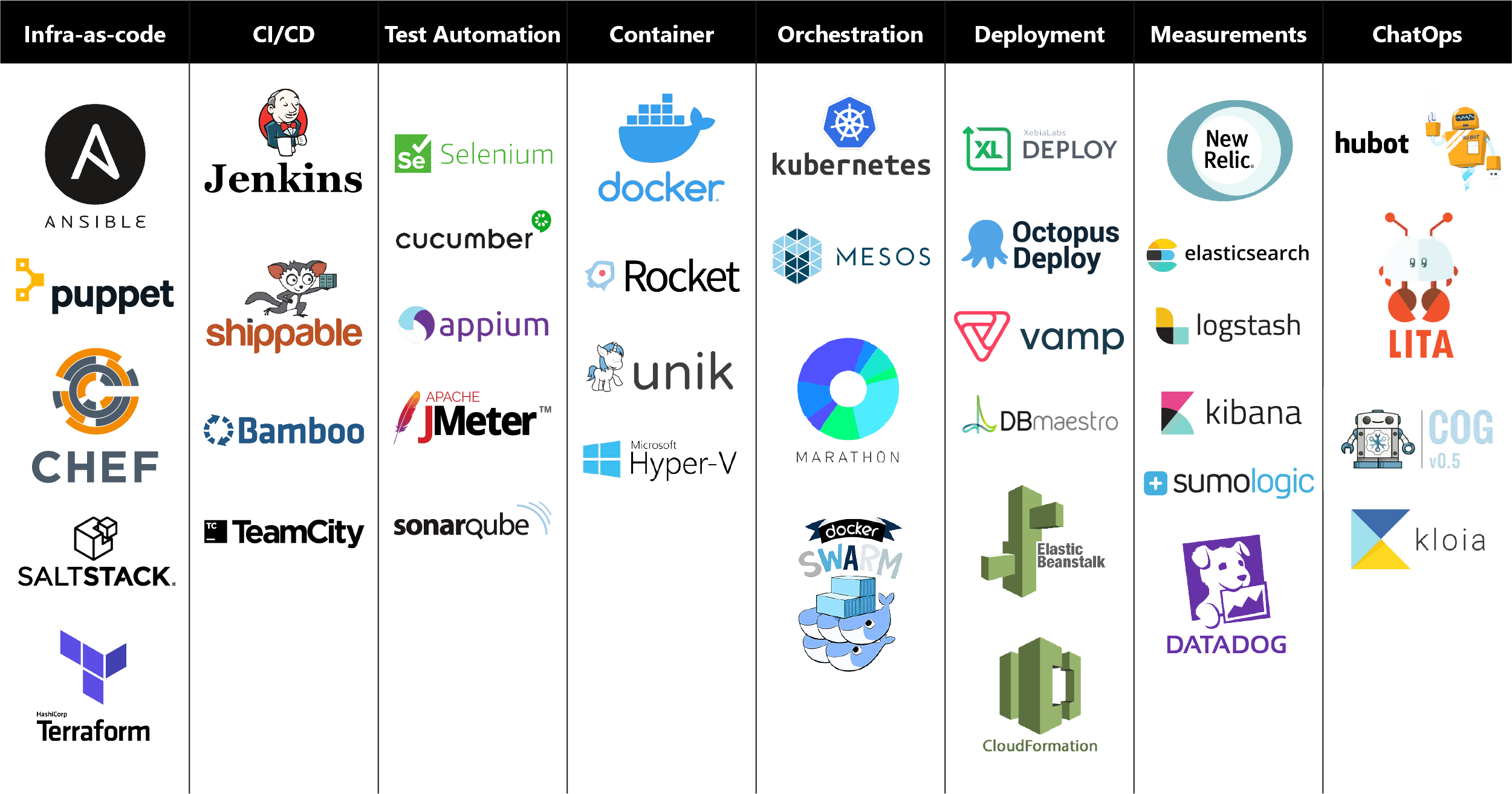 Getting started
The easiest way to get started with DevOps is our basic consulting service. We can examine your data ecosystem at the high-level and provide you with a set of recommendations for process automation and DevOps practices.
The ABCloudz certified DevOps experts can then go all the way to the integration step. This requires a deep dive into the customer's infrastructure as well as access to Git and existing DevOps orchestration tools if any.
DevOps services make the difference in application development and modernization projects. No matter whether you maintain a mobile, web, or desktop application, the ABCloudz team knows the right path for DevOps integration.
All applications use data and store them in databases. We can help your database developers and administrators adopt the cultural changes related to the full automation of their work processes. This will allow for seamless integration of your database development and maintenance activities into the DevOps pipeline.
Monitoring of the running systems is also an integral part of a DevOps process. You can take advantage of our exclusive services and products that can help you with discovering and addressing issues.
The ABCloudz team can bring the test automation to a new level by using our unrivaled products. Our certified experts can build the DevOps infrastructure from scratch or optimize your existing solutions. You can rely on our experience and expertise with building DevOps solutions for any type of application or environment. These include mobile, web, desktop, data-driven, cloud-based applications, on-premises, or hybrid environments.