Learn more about database migration to SQL Server
Contact us
SQL Server migration experts
Historically, ANSI SQL was created to make it easier for users of the SQL language to work across different database engines. However, database vendors created extensions like PL/SQL, Transact SQL, DB2 SQL, etc. This approach complicates any migration effort and binds the users to a certain technology. The core idea is that once these vendors lock a user into their extensions, it will be harder for customers to move to another database platform.
Our unique experience and comprehensive knowledge
The ABCloudz team has over 18 years of experience with migrating customer's workloads to SQL Server. We utilize free migration automation tools like SQL Server Migration Assistant (SSMA)  to translate Oracle, Sybase ASE, IBM DB2, MySQL, and Microsoft Access database objects, ad-hoc code, and data to SQL Server. Helping customers migrate to the SQL Server data platform, our team discovered multiple shortcomings and pitfalls of this automated migration tool. What is even more important — this team of prolific experts knows all the workarounds to address these issues.
Our migration practice also includes the key technology platforms as shown in the video below.
Leveraging these migration best practices acquired over the years, we help customers with assessment, conversion of database schemas and scripts, application remediation, data migration, testing, performance tuning, and many other steps of database migration projects.
Our approach to database migration projects
ABCloudz goes well beyond standard point-to-point migration service providers. We take a vested interest in your migration strategy, providing innovation, back-end integration, accelerated return on investment. And most importantly we provide you with an end-to-end solution that meets your business needs.
Starting with a migration complexity assessment, our database engineers can quickly create a strategic migration plan for migrating and transforming your current database assets. Based on this analysis, our team of experts will help you evaluate and implement the most cost-effective solutions for migrating and modernizing your database applications.
Over the last decade, ABCloudz has created a multi-step program for helping our customer migrate their database assets. Our 12-step database migration plan allows us to easily develop a project plan using our years of experience in understanding the level of effort for each step as shown below.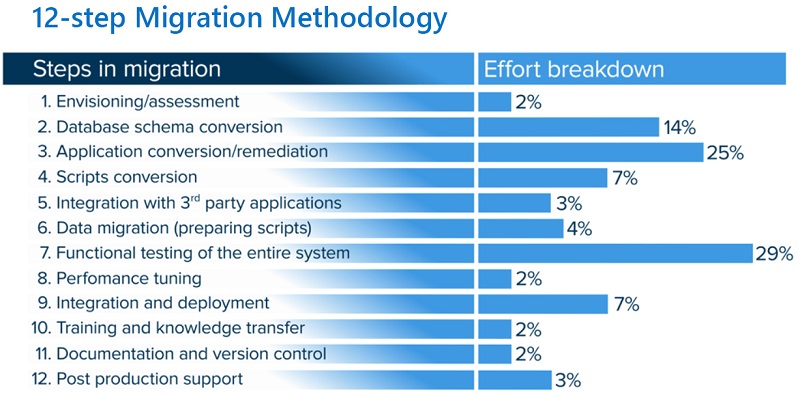 Migration options
Looking to reduce the maintenance costs and increase your application's functionality with a database migration to SQL Server?
Microsoft SQL Server reduces costs by consolidating databases, virtualizing servers, and allocating resources more effectively. Utilizing our in-house tools, ABCloudz can guide you through migration hurdles to help you take advantage of new business opportunities while also providing increased performance, scalability, availability, and security. Also, we know all about the SQL Server migration best practices. Leveraging them, we can help you migrate to SQL Server within a short period of time.
Here are the different migration paths we support when migrating your workloads to SQL Server.
What makes ABCloudz unique
Very simply, this is what we do — day in and day out. With our unique and long-lasting database experience, we know all about the SQL Server migration best practices.
Here is one example of a large US public sector education organization. They wanted to reduce maintenance costs due to the expensive Oracle licensing model. They asked, why to pay more for a basic feature like table and index partitioning. SQL Server supports partitioning similar to Oracle at no extra cost!
Check out this video on how we helped them in the migration to SQL Server.
Technologies we use for migrations to SQL Server
Here are several technologies that our experts use to help estimate the level of effort for your database migration project. Using them, we can even perform the automation of the database migration process.
Supporting your SQL Server solutions after the migration
As part of our migration project, we offer training, support, consulting, and managed services for your SQL Server solutions. Wondering how you can go through the hassle of maintaining the day-to-day operations of your databases and applications? Then be sure to check out our Operational Data Management service.