Learn more about our database migration expertise
Contact us
Why migrate PowerBuilder to SQL Server?
Aging PowerBuilder applications present a number of risks for mission-critical systems due to the lack of high availability and disaster recovery capabilities. In addition, these applications are often running on declining hardware. Finally, the original PowerBuilder developers are likely long gone or retired. So, it's very difficult to find someone who can support the upgrade process.
Microsoft SQL Server offers broader-based functionality and is more cost-effective than SAP ASE due to SQL Server's "out-of-the-box" functionality (such as table partitioning, disaster recovery, high availability, encrypted columns, and full-text search), without requiring additional purchases.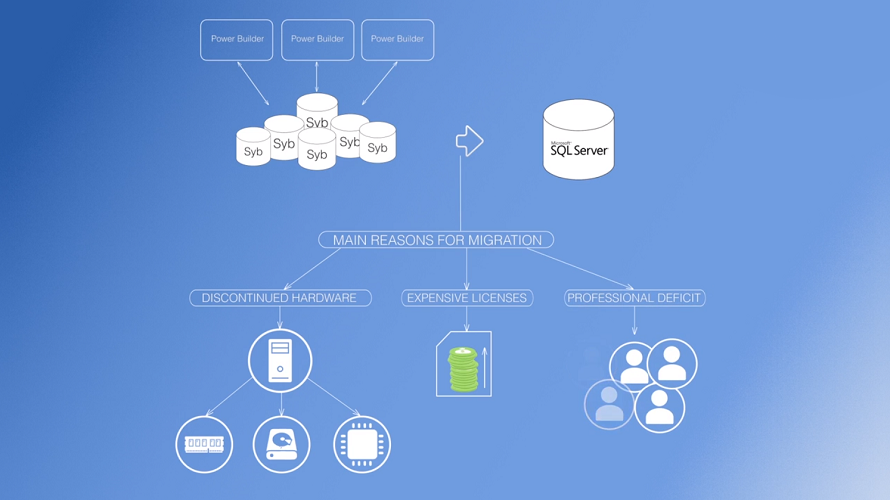 Typical challenges that we see
Database migration is a daunting task with a lot of hidden issues and possible problems. With our extensive experience, we can overcome most of the database migration challenges.
Challenge

Benefit

Once I have migrated my database, how do I validate that it is working at full capacity?

Prior to the migration, you should have a good understanding of your database workload including any performance data and frequency of heavy load. The key to a proper comparison is a mechanism to replay a load. You can do this through Distribute Replay Controller or your own load harness.

Once under load, you can evaluate your new technology by monitoring pressure on CPU, Memory, IO Operations, and network traffic.

By monitoring the times the system is under pressure you can determine if your technology is properly sized.

ABCloudz can help you profile your existing environment and then grade your migration against that profile.

Migrating away from your current data solution

Traditionally, this means a switch from one data platform to another. However, just switching the nameplate on the back-end DB server may not be the best solution. Some data patterns and use cases may have a better fit for NoSQL or Data Lake solutions.

ABCloudz Architects are trained to spot these patterns and discuss with the customer another approach that may be a better fit or be able to leverage new technology such as IoT devices.
Migrating SAP ASE databases to SQL Server to increase system's performance
Faced with skyrocketing license costs with SAP to renew their out-of-support server instances, our customer needed a way to migrate hundreds of SAP ASE databases. To make matters worse, our customer faced upgrading out of support PowerBuilder applications.
By migrating to SQL Server on commodity Intel-based servers, our customer found that they could exceed their performance needs and lower overall licensing costs. Check out the video to see how we approached the project to migrate SAP ASE databases to SQL Server.