See how our operational data management service can help you achieve business goals
Contact us
We've seen your problems before — and we know how to help!
The diversity of enterprise data systems today requires a robust team with an equally diverse skillset. Finding the right people can be a big challenge, so why not have the perfect team come to you instead?
Our Operational Data Management service provides the people, processes, and products to maintain your existing data infrastructure, as well as generating proactive roadmaps to modernize every aspect of your data environment.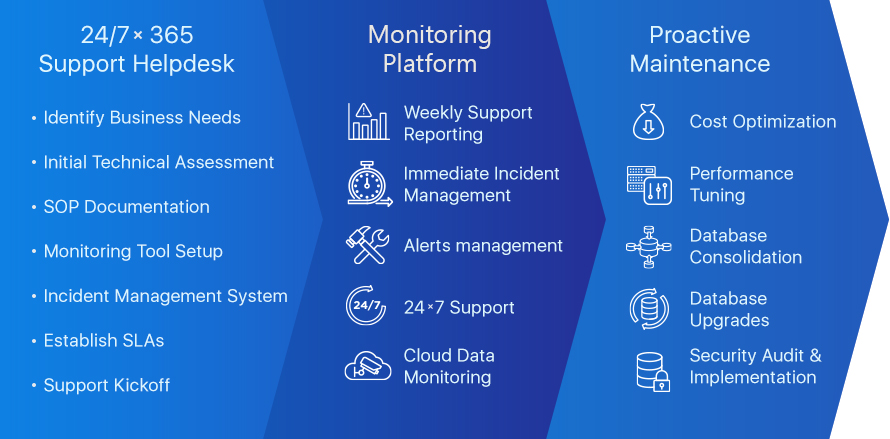 | Challenge | Solution |
| --- | --- |
| Onboarding Process Support | The ABCloudz Operational Data Management onboarding process identifies business needs and establishes key performance metrics to ensure smooth operation, efficiency, and lower costs. Our initial assessment and inventory will define a performance baseline and identify immediate areas for improvement. The assessment also includes monitoring tool setup, automated incident management, guaranteed SLAs, and establishing Standard Operating Procedure (SOP) documentation. |
| Ongoing 24/7 Local and Remote Support | Our remote DBA teams ensure that we not only provide local on-site expert support during the day but DBAs on-demand at night as well. Our 24/7 x 365 remote helpdesk has experience with all data and cloud platforms, as well as their associated monitoring and maintenance systems. Active data monitoring and weekly support reporting will ensure high visibility into unplanned variances, as well as ongoing performance tuning and resource consolidation. |
| One dashboard to rule them all | Each data platform has its own sets of diagnostics and maintenance tools, which can become complicated as your data platform becomes more diverse. ABCloudz has the people and products to consolidate the various dashboards, management systems, and reporting tools into one super-powered  maintenance system. Our in-house tools not only provide reactive maintenance by identifying and reporting issues through Trouble Ticketing systems but also provides proactive maintenance by ensuring those issues don't arise again in the future. |
| Thinking ahead with proactive maintenance | Long-term efficiency and reliability is a core component of our Operational Data Management service. Through performance tuning, database upgrades, database consolidation, and cost optimizations, our support teams prevent issues before they become a problem. While our in-house tools identify and report issues, they also provide specific recommendations to reduce the total number of database licenses through consolidation, lowering cloud costs through performance optimizations, and a DevOps environment which strengthens your IT instead of holding them back. Finally, the ABCloudz team provides you with detailed security auditing and implementation to ensure your data is available to those who need it while remaining safe from everyone else. |
Overview of managed data services
ABCloudz provides customers with Managed Data Services starting with comprehensive reviews of your entire data landscape, which result in a managed data architecture emphasizing structure, control, and consistency across the entire organization. Our support teams provide scalable services designed to grow with your business needs, from high-level reviews of your current database footprint to deep-dive technical analysis, all while troubleshooting known problems and providing both short-term and long-term support options.
ABCloudz goes well beyond standard "point-solutions" for data management services by having a vested interest in your database strategy. We provide innovation, back-end integration, accelerated return on investment, and most importantly, an end-to-end solution that meets your business needs.
What We Do
Reduce your IT operating expenses while achieving greater service availability, compliance, and security across your entire data landscape.
Evaluate current hardware and software infrastructure.
Identify operational risks (security, performance, disaster recovery, etc.) and provide solutions to mitigate these risks.
Review current systems to create a map of how data is used and stored.
Standardize data policy and processes.
Reduce data redundancy and fragmentation.
Eliminate unnecessary movement of data and strive to improve data quality.
Establish proactive policy for monitoring and maintaining the entire data landscape.
Combination of On-site and Remote Engineering Expertise
Providing both on-site and remote engineering expertise, our team will work with you to identify your IT pain-points. We will recommend the right mix of services and solutions, and provide you with cost-effective guidance to augment and enhance your current IT resources.
Service coverage is not limited regionally, or by facility, and is designed to support your data management needs from anywhere in the world, regardless of location. Having a global presence ABCloudz team can provide a round-the-clock monitoring to meet your needs and business goals.