Learn more about empowering your business with Google Cloud Big Data and analytics services
Contact us
About Google Cloud Big Data solutions
From data consumption to preparation, storage, and analysis; Google Cloud Platform provides a suite of serverless services that grant freedom from the need to deploy and operate clusters. Remove operational overhead and focus on building data-driven applications. Immediately benefit from combining cloud-native data services with the best of open source technologies!
Why ABCloudz for your Google Cloud Big Data platform development?
Transforming complex data. We can help you create powerful data pipelines with Google Cloud Dataflow processing data in stream and batch using lambda architecture.
Modernizing reporting. Whether you choose Power BI or Tableau; Google Big Query data warehouse has built-in connectors for the reporting and visualization tools your users already know and love.
Using an advanced data platform. Take advantage of scalability, access to secured data, and machine learning capabilities developed through Google's years of AI based search and advertising technologies.
Why ABCloudz for your GCP Advanced Analytics projects?
Enabling action using business analytics. Our data scientists are ready to help you evolve ahead of your competitors by building advanced analytics and machine learning into your business applications, leveraging Google's Cloud Machine Learning Engine.
Innovating through intelligent agents. We can help you build closer customer relationships with a deeper understanding by building solutions that see, hear, and interpret the natural world. Using the Cloud Vision API to derive the context of a picture and the Cloud Video Intelligence to extract metadata from a video can enhance content awareness and personalization.
Using agility to achieve value quickly. Our solution architects can help you gain a head start using preconfigured solution templates from Google Cloud Platform.
Scaling up analytics with peace of mind. At ABCloudz, we are ready to help you deliver cloud-based security while easily managing complex data streams as your business needs continue to grow.
Key technologies
You can rely on our team's proficiency with the following technologies.
How ABCloudz approaches GCP BIAA solutions
Google Cloud Platform offers a comprehensive set of technologies for gaining better insights into your data. ABCloudz has experience in helping organizations develop a detailed technology roadmap using GCP technologies.
The process starts with understanding your businesses current technology state and goals for your new solution on GCP. Here is an example customer story for a sports organization that wanted to add real-time statistics and predictions to their event live streaming service.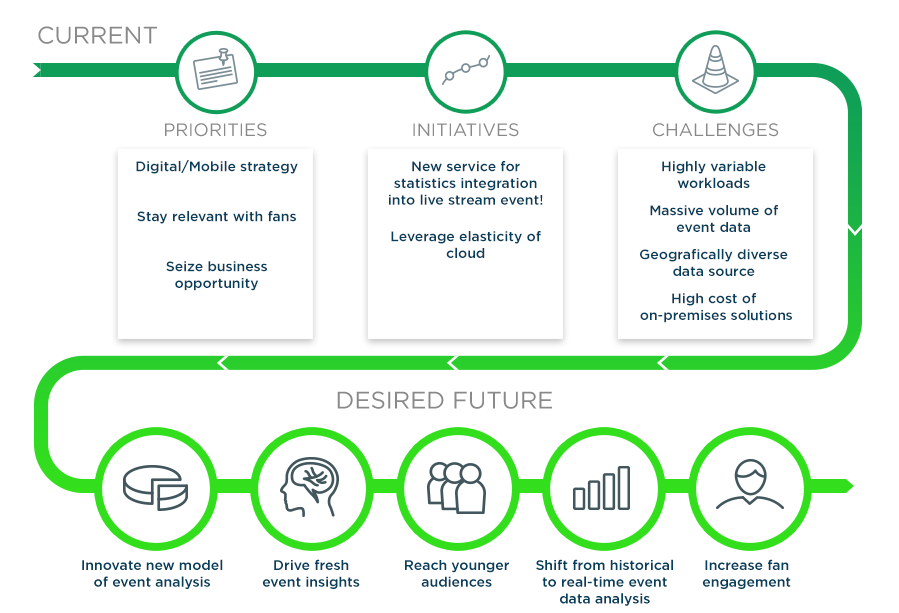 We then work with your team to develop a high-level architecture to identify the GCP services that are needed to satisfy your objectives.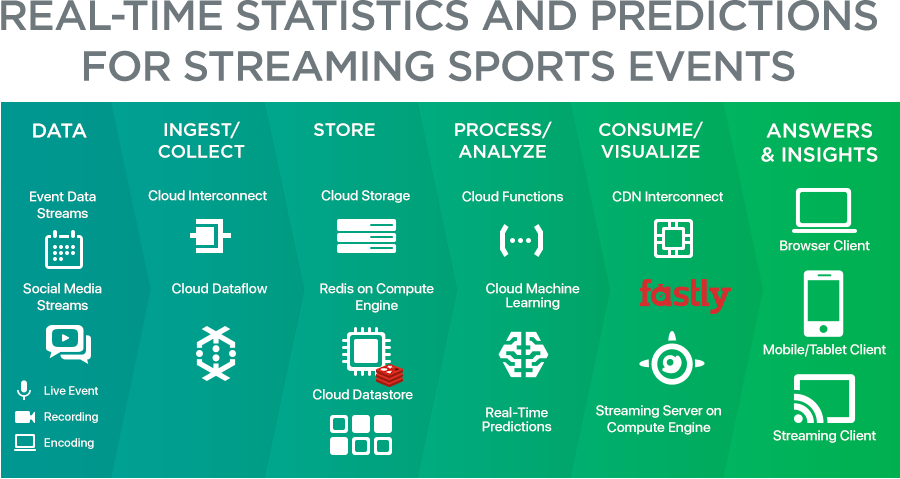 Understanding your on-premises and cloud-based data and then looking at the technologies used to ingest, process, store, and visualize your data provides your team with a greater understanding of the solution. We use this as a roadmap for developing a project plan and creating a return on investment model for a cost-effective solution which can grow as your business needs change.
We have a variety of offers to get you ramped up right away on the latest GCP solutions for business intelligence, advanced analytics, and big data.
Get the most out of your data with Google Cloud Big Data solutions
Let ABCloudz help you empower real-time decision-making, identify trends, and create multiple data-mining models all within the powerful Google Cloud Big Data solutions.
Integrating business intelligence tools with Google Cloud
Here are examples of the BI-related technologies that we've used with our customers that work with Google Cloud Platform. We can also help you migrate from the technologies below to the corresponding Google Cloud technologies.