Discover the power of our Power BI consulting services
Contact us
Our Power BI services
ABCloudz has delivered enterprise-scale Power BI-based Business Intelligence solutions for hundreds of organizations. With our experience in data management and business intelligence, our Power BI experts can create a solution enabling valuable data insights. Keep up with your business growth and empower executives, managers, and other corporate end users across your organization to make faster, more informed business decisions with ABCloudz Power BI services.
Here is a sample of some of the Power BI reports we've created.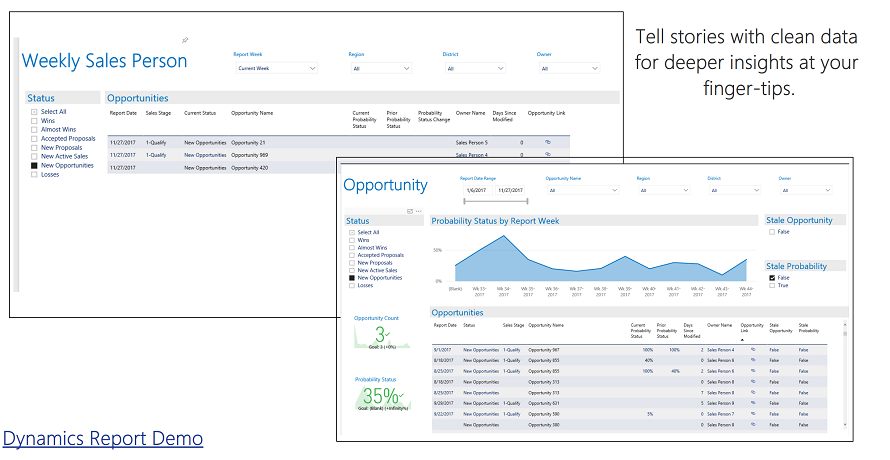 What we do?
Our familiarity with a wide variety of data types and platforms gives us the insight to generate a custom Power BI solution. Particularly, our experienced BI consultants can:
Provide technical expertise in mapping multiple data sources to Power BI
Ensure credible and consistent data without changing data sources
Accelerate and improve decision-making solutions to increase operational efficiency
Deliver a familiar user experience with Power BI service while gaining a competitive advantage over business rivals
Provide expert Power BI consulting services to help you with a Proof of Value project to identify market trends
Getting started with Microsoft Power BI
At ABCloudz, we have a strong business intelligence team with a proven track record of completed projects. Our Power BI experts can find the right optimization or modernization path of your data infrastructure or even architect new analytic systems from scratch.
Our service includes but is not limited to creating new business intelligence solutions or modernizing your existing dashboards. On top of that, you can rely on our trusted team to build an accurate and effective business intelligence strategy.
We can help you understand what drives revenue for your business, but before that we deep dive into your data infrastructure. At this point, you may expect suggestions and recommendations on optimizing your data environment. Our company emerged from the world of data, therefore, our team has excelled in managing customer's data and applications.
Our solutions architects will deliver bespoke enterprise-scale business intelligence solutions leveraging Power BI. No matter whether your data resides on-premises or in the cloud, we can help your business obtain meaningful insights, instant analytic reports, and interactive dashboards.
Check out our basic offerings to get started with Microsoft Power BI.
Building an ultimate cloud-based Power BI business intelligence solution
One of the largest North American agricultural enterprises has been envisioning and designing a new cloud-based Business Intelligence and Data Warehousing architecture. They were using a fragmented system, based on Oracle database, while the reports were presented as a mix of SQL Server Reporting Services (SSRS) and Excel dashboards.
We came up with a solution that allows for consolidating all their reports in Power BI dashboards. In addition, we migrated the source Oracle database to Azure Synapse Analytics to reduce the license costs and improve the database performance.
Learn more about how we approached this database migration and Power BI consulting project from the following video.