Why should you consider the Snowflake cloud data platform?
Snowflake is a data warehouse built on top of Amazon Web Services, Google Cloud Platform, or Microsoft Azure cloud infrastructure. This SQL data warehouse built for the cloud provides users with unprecedented performance, simplicity, concurrency, and affordability. With Snowflake, you don't need to select, install, configure, or manage any hardware or software.
The Snowflake architecture scales storage and computing resources independently. Therefore, customers can use and pay for storage and computation separately. At the same time, your cloud data storage automatically grows without the need to add nodes. In contrast to other cloud data platforms, you don't need to write extra code to scale your workloads. Consider the fact that with Snowflake, you only pay for what you use: whether you need to scale your data storage up or down.
You may want to take advantage of this modern cloud architecture, which combines the power of data warehousing, the flexibility of big data platforms, and the elasticity of the cloud.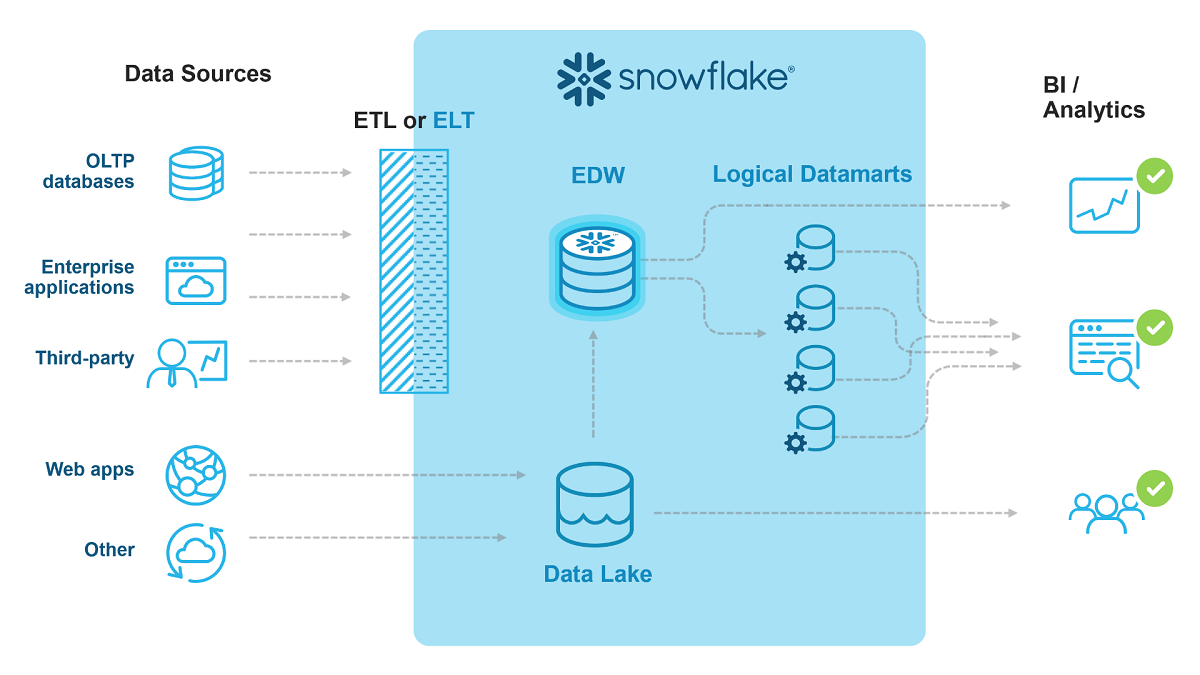 Logical data marts are the hallmark of the Snowflake architecture. In a logical data mart, you may fire up compute nodes on a set of data that Snowflake is managing. These nodes work independently, as they have independent access rights and autonomous sizes. This technique allows for running concurrent queries against the data warehouse.
Our experienced cloud solution architects recommend using Snowflake for data-driven enterprise-grade applications. We consider this cloud as a leader in data warehouse manageability and a reliable platform for instant analytics.
Choices in the cloud
Snowflake is a unique cloud-based data warehouse and is not available on-premises. It surpasses other cloud platforms by providing users with exclusive features, like cross-cloud data sharing, unprecedentedly high availability, or automatic clustering.
Data sharing
Snowflake works on three big clouds and provides users with cross-cloud and cross-region seamless data sharing. This means that you store your data in multiple clouds, and it will be automatically replicated. Using this approach, you can improve the high availability of your cloud solutions. For example, when the whole cloud goes down, your Snowflake workloads will still be up and running.
Another interesting choice is to leverage Snowflake to migrate your data from one cloud platform to another by setting up the data replication. However, global replication of your Snowflake data across clouds could prove to be rather expensive as you then pay for both data egress and data ingress.
Snowflake supports both ETL and ELT processes. You may use Snowpipe to bring in data from various data sources into your cloud data warehouse, regardless of whether you use structured or semi-structured data (JSON, XML).
Also, this cloud data warehouse platform ensures full transactional consistency across the entire system. As soon as data commits, each cluster sees the newest version.
Performance
The Snowflake cloud data platform provides users with consistent SLAs and predictable performance because it handles all occurring issues automatically. It provides users with eleven 9's of durability SLA by underlying cloud providers. Therefore, users may not even need backups. However, users now have the functionality to create a copy of their data and then restore it when needed.
Consider the following example: Azure Synapse Analytics only supports 128 simultaneous queries at a time. With Snowflake, the sky is the limit for running concurrent queries. However, you may decide to specify the concurrency level for SQL statements. This is a budget related limit and not a hard limit.
Automatic clustering
Snowflake data warehouses support automatic clustering. Hence, independent compute clusters can read/write at the same time and resize instantly.
With Snowflake, you can take advantage of fully isolated workloads. In this case, the data warehouse provides virtual clusters rather than reserved resources for every workload, like BI or ETL. As a result, your system's performance will be more efficient and predictable.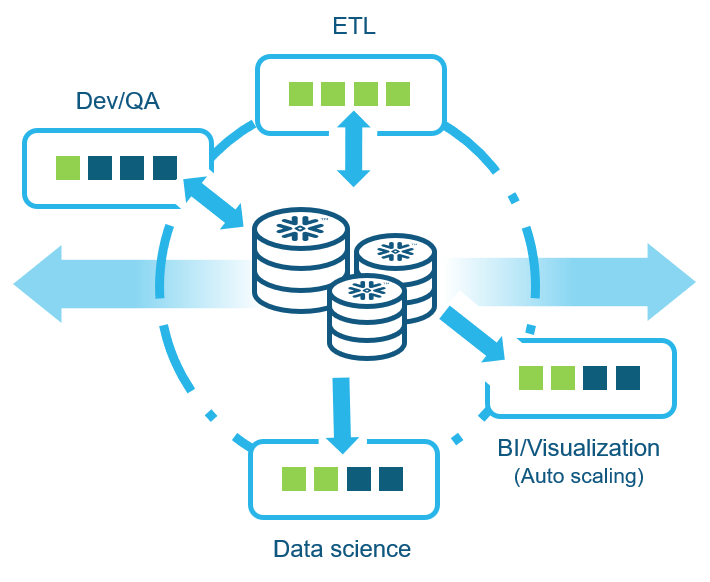 Finally, you may also want to use separate clusters for test, dev, or staging environments.
Getting started with Snowflake
The best way to start is to analyze your existing database landscape. After collecting the initial data, we provide you with a list of modernization and optimization opportunities.
Your huge data warehouse workloads may demonstrate poor performance because of poorly written queries or other issues. Our experienced team can help you discover these issues, fix them, or provide you with a cloud migration path to save operating costs and improve the performance of your data-driven applications.
Let our team start by assessing your data environment and then craft a modernization path that fits within your current environment. Our solutions architects then design the future-state cloud architecture of your data environment and provide you with comprehensive technical and financial information about the potential pros and cons of any proposed Snowflake solution.
You can also rely on our expertise with Snowflake for ongoing data management tasks as well as cost or performance optimization.